A Sherlock Holmes Mystery
At last, the incredible account of Sherlock Holmes' investigation into the brutal murder of Canon Alfred Lilly and the secrets of the Jericho Manuscript can finally be published.
Although Holmes' faithful friend, Dr. John Watson, gave strict instructions that his account should not be released until a hundred years after his death, it has not made the astonishing discoveries any less explosive now as they were when written in 1901.
"Sherlock Holmes meets the Da Vinci Code in a gripping murder mystery."
"Is this the most extraordinary Sherlock Holmes adventure ever written? The answer is, of course, 'elementary'."
It was 24th June, when the Rev. David Adams discovered his friend Canon Alfred Lilly dead at his desk in a pool of blood. The police considered it suicide, but the Rev. Adams refused to accept the verdict and employed the celebrated detective to locate the murderer and the missing Jericho Manuscript that Lilly had been translating.
The hunt for the killer takes Holmes and Watson to Paris where an encounter with mystic composer, Claude Debussy and his symbolist friends, not only leads to Holmes unravelling the secret history of Notre Dame Cathedral but forces the chase south to the birthplace of Nostradamus and the fortified town of Carcassonne. At the mysterious Magdalene church at Rennes-le-Châteaux, Holmes uses all his observational skills to decipher the heretical statues recently erected by the local priest, Abbé Saunière.
Clues lead the intrepid detective and his excitable friend to the Monastère de Prouilhe, the centre of the dreaded Dominican monks who supervised the horrifying tortures and burnings of thousands of innocent Christian Cathars in the area.
Can Sherlock Holmes use his special talents to extract from these monks the final link to the Jericho Manuscript and the monumental secrets it contains? The game's afoot in an unmissable thriller that breaks through from fascinating fiction to extraordinary reality.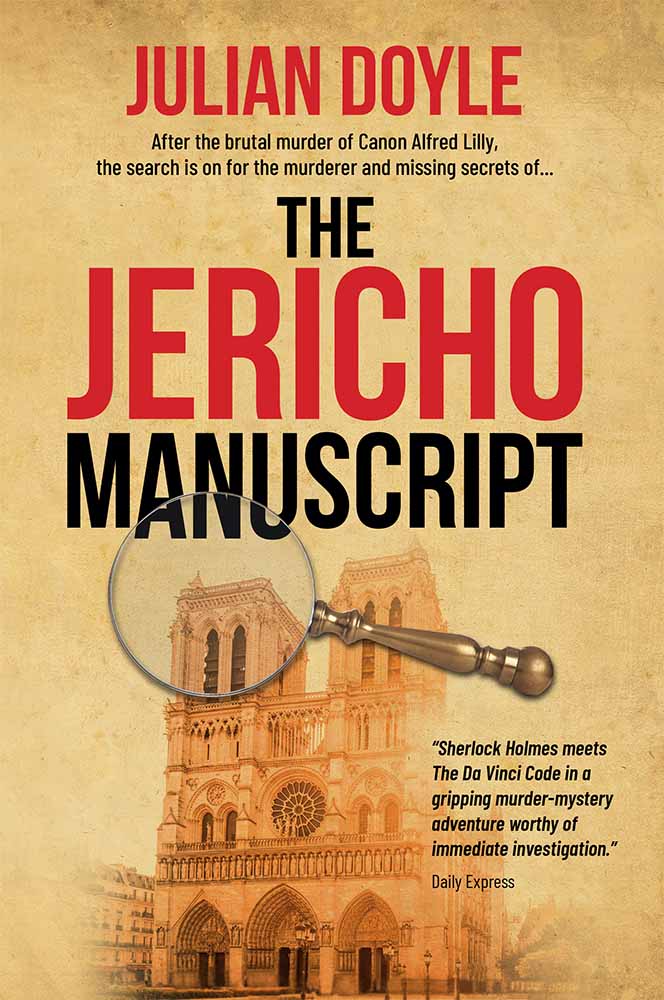 "Like his namesake and Sherlock Holmes' creator, Sir Arthur Conan, Julian Doyle is a master storyteller."